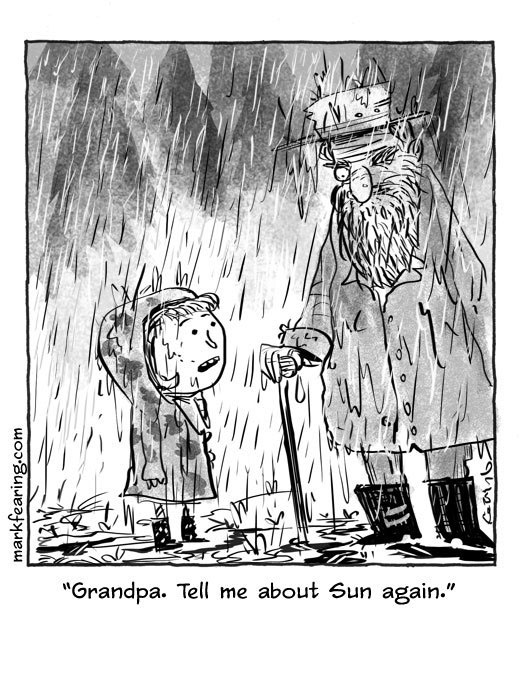 Living near Portland Oregon, after many years in Southern California, I find the lack of sun keeps me indoors more often. No wonder I'm keeping this blog.

As the title of this blog makes evident, I often do illustration. Which I do a lot more of now that it's raining outside most of the time.

But what, you may ask, did I do before doing what I do now? Well, I grew up near St. Paul, Minnesota and I didn't have to travel far to attend the University of Wisconsin, Madison where I studied Comparative Literature, Chinese, Ancient Art History and Art. Yeah, I was that kind of student. Taking whatever I was interested in and that finally lead to a BFA. I also drew for the student newspaper and The Capital Times. My work was twice included in The Best Editorial Cartoons of the year by Pelican Publishing. After that I worked in advertising, politics and for a software company designing marketing material and doing interface design.

I submitted my first picture book while in college. The editor encouraged me to consider some changes and I resubmitted. I got it back 4 weeks later with a note explaining that the editor who had written me was no longer there and no one else was interested. So much for that career. For the next 17 years I wrote and drew books, but I didn't send them to anyone and without feedback they didn't get much better . But I kept busy with other things.

After a few years more in Madison I transferred myself to Los Angeles. I worked in a number of graphic design and art direction positions. Overseeing websites, creating marketing material, creating international multimedia projects for various companies including, Apple Inc., Adobe, Blockbuster, Transamerica, Honda, Toyota and many more. I became an Art Director for Sony Online Entertainment overseeing the development of dozens of online games based on Sony properties and licensed titles including the first web based interactive versions of JEOPARDY!, Wheel of Fortune, The Dating Game and Trivial Pursuit. I was a Creative Director for Pearson Televison New Media where I developed Family Feud Online for multiple countries and worked with the television production department to bring supporting websites live for new TV shows.

I later enrolled in the MFA in animation program at UCLA where I made The Thing with No Head. This animated short was aired on Nickelodeon Nicktoons and in festivals around the world. Other shorts I wrote or directed have appeared on G4 TV in the USA and on a variety of channels in the UK. I also developed and sold an online animated show called Hollywood Backlot working with Mondo Media. (see my animation section for samples on YouTube)

I left UCLA after my first year to work at Walt Disney Television Animation as a current production manager. I also wrote an essay for The Comics Journal about the future of online animation which later became recommended reading for MIT's The Future of Broadcasting course.

I created a comic book called Cenozoic and my work appeared in the anthology comic book series Periphery. I have done visual development for animated TV series and feature films.

I took a children's book illustration class at Art Center in Pasadena taught by Marla Frazee. It was like being a kid and picking up a clean piece of paper. That class reminded me how much I loved writing and drawing books. The class also gave me the confidence to try sending work out again and to to believe I could work in picture books. From then on a large part of my work has been geared towards that market.

Ideas are funky things and it's not always clear why one idea works so much better in one medium than another. That's the fun and dynamic part and is very intriguing to me. I love drawing and writing picture books. The Book That Eats People was a finalist in the 2010 Children's Choice Book Awards and art work from the book was selected for the Illustration West 47 show in 2009.

The Three Little Aliens and the Big Bad Robot was released on Sept. 27th, 2011 and the art from that book was selected to show in the Society Of Illustrators, New York, 'O' Show of 2011. I illustrated a short reader book about Bigfoot called So You Want To Catch Bigfoot which is part of the Judy Moody series.

I wrote and illustrated a graphic novel for young readers called Earthling! which was released in 2012 by Chronicle Books and was awarded the Oregon Spirit Award for graphic novels in 2013. The award is presented by the Oregon Council of Teachers of English.


Keep an eye on this blog for info as additional books are released. I think the next one is due in May 2016, another in the Fall of 2016, then a few more in 2017 and 2018. Working ahead is one of the most disconcerting things in this business!

I am represented by Sean McCarthy of McCarthy Lit.

I enjoy telling stories, no matter the medium, and this blog is a place to informally share my work in progress and post on topics that intrigue the writer/artist in me.

You can contact me at: markfearing (at) gmail dot com.